New conveyor chain for waste treatment
Tsubaki's new conveyor chain range offers prolonged life in Waste Treatment Facilities
Waste Treatment Facilities are becoming more common as public opinion continues to grow in favour of environmental issues and landfill is seen as unacceptable. The facilities, which incinerate waste before processing the remains, will often rely on conveyors to transport the waste from process to process. Due to the harsh environments encountered, traditional conveyor chains often wear quickly and need replacing in a matter of months. Fortunately Tsubakimoto has developed a range of long lasting conveyor chain which is designed specifically for the industry.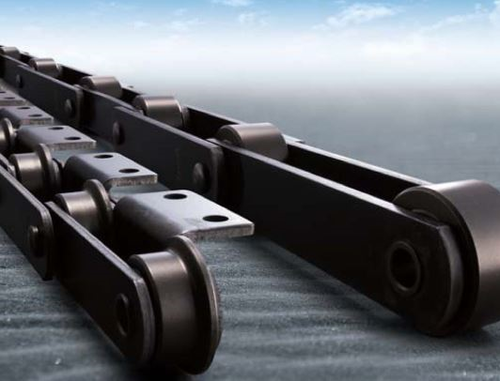 A typical Waste Treatment Facility will require conveyor chain which is capable of surviving in several different environments. The initial chain transporting waste to the incinerator will need to survive regular use and shock loading, while chain further along the process may be required to carry dry ash - which can seep into the chain's internal workings - or molten slag - which requires resistance to high temperatures, acid and alkali. With such extreme conditions its hardly surprising that many chains installed in these facilities are only capable of operating for a matter of months before needing to be replaced; leading to high maintenance costs.
Many within the industry, including some chain manufacturers, believe that such short life spans in such environments are inevitable. They say the only way to keep replacement costs at a minimum is to source low-cost products. However, Tsubaki disagrees. It has developed a range of conveyor chain which is specifically suited to the different operational requirements which are found within the Waste Treatment industry. The new range has been built on Tsubaki's many years of experience in developing long lasting solutions and is able to offer many times the operational life of traditional chain product in some applications.
The waste treatment range includes chain for transporting waste to the incinerator, transporting wet and dry, transporting fly ash (including corrosive ash); and chain for molten slag. Each chain series has been optimised for the needs of the individual process and has been shown to offer significantly extended operational lives when compared to product traditionally used within the application.
Derek Mack, Sales Director for Tsubaki UK, comments: "We understand that many of the processes involved in the Waste Treatment industry present unique challenges, and see it as our job to offer long lasting solutions that offer economical benefits, in terms of reduced maintenance and repair costs, as well as environmental benefits, in terms of reduced replacement requirements.
"The range is available in a variety of sizes and with all the attachments which might be necessary. Our sales team is aware of the requirements within the industry and will be happy to specify chain based on a customer's needs and present them with estimates on the expected life of the chain and Total Cost of Ownership savings when compared with the incumbent product."
A pdf brochure is available which features all of the chain types within the Waste Treatment range along with a description of their key benefits and details of the dimensions and tensile strengths. The Waste Treatment Chain Brochure can be downloaded here or requested with a call to the sales team.